The European online course on "Urban Resilience in civil protection" will be presented on 24th of  November  2016 by the Foundation Villa Montesca Foundation  in the framework of  the 8th Basic Course for Civil Protection.
The course is one of the deliverable realized in the framework of the civil protection european project CPMODEL Civil Protection Massive Open Developed E-Learning that aims to introduce some of the main areas of applicative issues related to the concept of 'resilience to disasters'.
The course is structured in 4 weeks and related lessons. Each lessons contains a video lessons and quiz a in order to test the learning, research material and a final questionnaire for the course evaluation. At the end of the activities, you can obtain the certificate of course participation.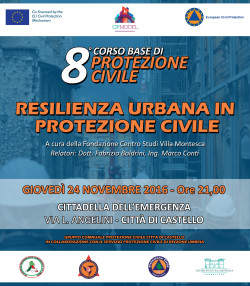 Category:
In the spotlight
,
News and Events